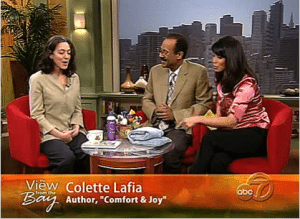 Welcome to my website! I'm Colette Lafia, and I'm passionate about awakening people to the love of the Divine and helping them connect more deeply with the presence of the sacred in their daily lives.
I do this through my work as a spiritual director, workshop and retreat facilitator, and my books: Comfort and Joy: Simple Ways to Care for Ourselves and Others, which was named one of the best spiritual books of 2008 by Spirituality and Practice, and Seeking Surrender: How my Friendship with a Trappist Monk Taught me to Trust and Embrace Life (2015, from Ave Maria Press).
I also love to blog, and here at ColetteLafia.com you'll find principles, practices, and posts that will help you:
Embrace Life
Say Yes to the desires and yearnings you're feeling deep inside. Say Yes to what needs your acceptance, right now.
Embody Love
Let Love be your daily source—healing you, giving you energy, connecting you to life.
Experience Sacred Awareness
Pay attention to the Spirit at work in your life. Notice what is stirring in your heart.
All of my work is rooted in a practical spirituality. My training and experience as a spiritual director and a teacher deeply informs the philosophy, principles, and practices on this website, in my workshops, and in my books.
The basic premise of spiritual direction is that everyone has a unique way of finding and relating to the Divine, and to grace and spirit. In spiritual direction, we listen to the movement of the Divine in a person's life—in relationships, work, prayers, feelings, and discernment. We listen and guide a person to tune into his or her life as a holy and sacred experience.
About Colette
I believe there's no separation between our everyday experience and our spiritual life. The Sacred is present in every moment of our lives, even if we're not always consciously aware of it.
That's where I come in. I love helping people experience the sacredness of ordinary moments—doing the dishes, going to work, feeling a wave of grief wash over you at the thought of a loved one who's gone, noticing a flower that's growing in a sidewalk crack. When you surrender to the Mystery of life, Love will transform your moment-by-moment experience.
Some of my guiding principles are:
I believe we must claim our spiritual lives, and build a personal relationship with the Divine.
I am passionate about sharing love and being love in the world.
I dream that people are reading, reflecting, sharing, connecting, taking action in their lives, and making themselves feel better so that they can be more generous with those around them.
I'm passionate about being honest and connecting to God authentically.
I'm passionate about expressing myself through creative channels like writing, drawing, and praying.
I believe that everyone wants to connect to love. I believe the Divine presence is a real experience we can and do have the capacity to connect to as humans.
Each of us is a great big self—full of possibility, dreams, and love.
Sharing and Connecting: Who I am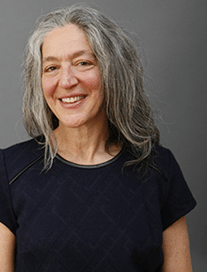 I am a San Francisco based author, spiritual director, workshop and retreat facilitator, and blogger. I'm also adjunct staff at Mercy Center Burlingame, and a part-time children's librarian in a San Francisco public school.
I hold a BA in Creative Writing from San Francisco State University, where I worked in the renowned Poetry Center. There, I started a small magazine called If Poetry. It was a time of innovation and discovery for me, meeting poets from around the world and connecting with my love and passion for the written word.
After receiving a Master's Degree from San Jose State University, I became a school librarian and work part-time in a public school. In this position, I share my love of books, and inspire hundreds of children to read.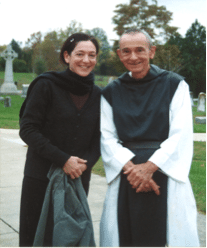 Contemplative Christianity and monasticism have deeply influenced me. For five years, I exchanged letters with a warm and kind monk from the Abbey of Gethsemani, in Kentucky. It was through this friendship that I learned to embrace life, embody love, and experience sacred awareness in a more authentic way. My latest book, Seeking Surrender: How my Friendship with a Trappist Monk Taught me to Trust and Embrace Life, (Ave Maria Press, Spring 2015) is based on this spiritual friendship.
I received my certification in the art and practice of spiritual direction from Mercy Center in Burlingame, one of the pioneer centers in spiritual direction. This was a turning point in my life. During the 3-year program, I deepened my spiritual life, and learned to understand the depth and breadth of the spiritual journey. I also learned to listen in a whole new way—in a contemplative way, in a creative way, in a slower, more patient, deeper, savoring way.
"Colette Lafia is a gift from God! She has the patience to listen intently; the intuition to reflect tenderly; and the spirituality to advise lovingly. Colette did all those things for me when I was desperately trying to define my life; she helped me find the comfort I needed to move forward and gain inner strength through the grace of God."
            –Stephanie, San Francisco
Besides my work as a writer, and a school librarian, I'm an adjunct faculty member at Mercy Center Burlingame, where I assist with programs, retreats, and workshops. Currently, I am a team member for Sacred Journey, a one-year certificate program in Christian contemplation. My interest is in bringing together the creative arts and spirituality.
I also do spiritual direction and teach. I have done workshops for the School of Applied Theology; Mercy Center; Saint Agnes Spiritual Life Center; the Archdiocese of San Francisco, Grief Care Program; Saint Ignatius Church, a large Jesuit parish in San Francisco; the Clinical Pastoral Care Center and Program, which is part of the Institute for Health and Healing, California; and, the San Francisco Unified School District, the seventh largest school district in California. Check on my workshop page, and see all of my offerings!
I have appeared on several TV shows including View from the Bay and Comcast Newsmakers. I was also a featured contributor with the San Francisco Chronicle's City Brights feature for several years. (http://blog.sfgate.com/lafia/).
I've had the gift of many elders in my life. Some of the most important ones have been Leigh Hyams, artist and teacher, from whom I learned that creativity is like a faucet, just waiting to be turned on; Brother Rene, from whom I learned to allow myself to be seen and loved by God; my father, David Lafia, from whom I learned to forgive the imperfections of life; and Angeles Arrien, from whom I learned that gratitude is the foundation for a life of contentment. I appreciate the wisdom and gifts of elders, and feel that it's from them that I've been carried forward in my life.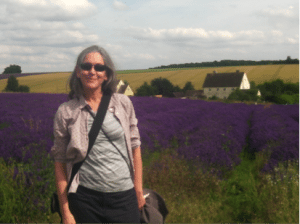 Colette at a Lavender Farm, England, 2014
Save