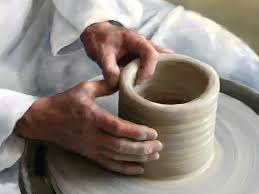 What is Stirring in Your Heart?
Last week, over forty women gathered at Mercy Center, on a foggy Friday, for a Women In Transition day retreat. Together, we engaged in reading poetry, making art, and contemplative sharing. We also enjoyed tea and fresh scones together.
I had the privilege of guiding the group in making clay sculptures as a way to reflect on their transitions. Before we began to work with the clay, I invited the participants to engage in art making as prayer, and to connect with the divine creativity moving within them.
I started the process by reading this passage from Isaiah 64:8: We are the clay. You are the potter. We are all the work of Your hands. 
I ended up making this image and gave it the title: In this Becoming.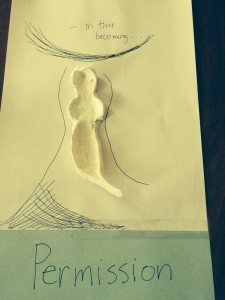 Another woman made this image and gave it the title: Really Here, Really Here.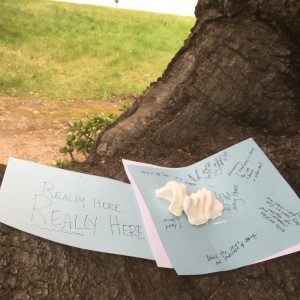 Another woman made this image, and gave it the title: Freedom. She wrote about the experience,  "The art experience of molding clay is a creative way of connecting with God.  To mold the clay into something that reflected my life and innermost desires was a great way to open up to God."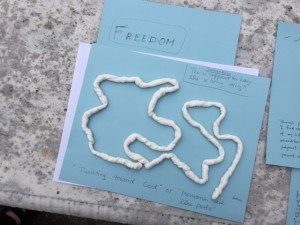 I reflect on my clay sculpture now, just a week later, which was a momentous week for me. This was my last week as the librarian at an elementary school where I have worked for eight years. The week was filled with tears and cards and cake, and lots of hugs and goodbyes to teachers, students and parents.
Earlier this month, I decided to transition to a smaller school, in order to reduce my workload.  Surrendering to this decision was a journey of listening, listening deep within me to what was stirring in my heart. And to give myself permission to hear this voice.
But even now, I continue to notice moments of doubt, fear, and self criticism. I realize that without seeing myself as the clay and God as the potter, I become disconnected from myself and my deepest desires. I know that I can only make this leap of faith by staying in prayer, and listening to the voice of my heart and God's encouragement.
I invite you to pause, to pray, to connect to a transition you are in, and listen to what is stirring in your heart.
Practice:
Name a transition you are in.
Write it down.
Pray with it in a creative way–drawing, writing, collage making.
See if you can discover how God is in this transition with you.