Colette Lafia is a spiritual director, retreat facilitator, and writer who invites people to see themselves as a manifestation of Divine love.
Colette has an active spiritual direction practice both in person in San Francisco and around the world thanks to Skype and Facetime.
Colette enjoys designing and facilitating contemplative retreats and Days of Prayer. And in recent years, she's reached an international audience through her online retreats sponsored through Mercy Center Burlingame, where she is an adjunct faculty member.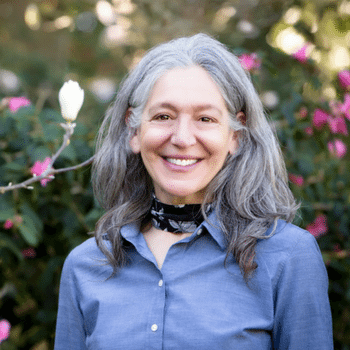 As well as being a teacher, Colette views herself as a continual and steadfast student of the contemplative way. She received her formation from the Spiritual Directors' Institute at Mercy Center in Burlingame, California, and recently completed the "Living School" program in the Christian contemplative and mystical traditions at the Center For Action and Contemplation, guided by Father Richard Rohr, Reverend Cynthia Bourgeault, and Dr. James Finley. In addition, she has a BA in English/Creative Writing from San Francisco State University, and a MLIS, and works as a part-time children's librarian in a public school in San Francisco.
Colette has a passion for helping people connect more deeply with the presence of the sacred in their daily lives, and lives by St. Teresa of Avila's teaching that the measure of love in action is how we do ordinary things. She blogs at colettelafia.com, and is also a guest blogger for the internationally acclaimed website gratefulness.org.
Colette shares a comfortable home with her husband in San Francisco, where they enjoy bike riding through Golden Gate park every Sunday and going to a local farmer's market. She loves to engage in contemplative practices and laugh every day.
Some of Colette's guiding principles:
Love isn't something we do, it's who we are. The more we can 

be love

 in the world, the more we fulfill our purpose in life.                

Honesty and authenticity are the foundation of a meaningful relationship with the Divine.

The Divine presence is available to all who have the willingness to open their hearts.

The benefits we receive from engaging in awareness and contemplative practices make us kinder, more compassionate, and more generous with those around us.

Creativity is a spiritual path, inviting us to claim our connection to Creation. It isn't limited to writing and drawing, but includes other forms of inspired action, and prayer in all its many forms.  

Each of us is larger than we've ever imagined—full of possibility, love, and dreams. We are called to honor our longing to experience and express all of who we are. 
10 Ways To Practice Surrender Today