When to Stop and Pay Attention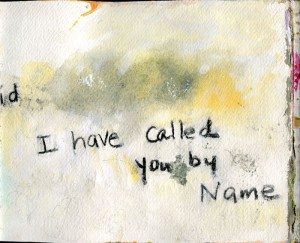 Just yesterday, while I was in the Safeway store looking at laundry soap, I had a sweet rush of spiritual tears come over me. As my hand was reaching for the white plastic container, I was overcome with the presence of God's love in that moment, in the harshly lit supermarket aisle.
It's in those ordinary moments, in those unlikely moments, that I know what I am called to do is listen. I stopped for a moment, holding the laundry soap, and heard my deep desire: to depend on God more, trust more, and call out like the monks do every day, O God, come to my assistance. O Lord, make haste to help me.
I appreciate having spiritual experiences in ordinary places–like the supermarket–because they strengthen my trust and confidence in the Divine presence. They wake me up, and show me that the spirit is alive and active. I ask myself: How do I stay open to the Divine in my daily life? How do I allow myself to be created every day?
This Poem by Rilke speaks to these questions:
—from Rilke's Book of Hours, The Book of Monastic Life
I live my life in widening circles
that reach out across the world
I may not complete this last one
but I give myself to it.
I circle around God, around the primordial tower
I've been circling for thousands of years
and I don't know: am I a falcon,
a storm, or a great song?
–from Book I, poem 2 (translated by Anita Barrows and Joanna Macy)
Reflection:
Invite the Divine into your daily activities. Dear God, let us share this day together.