Writing as a Healing Process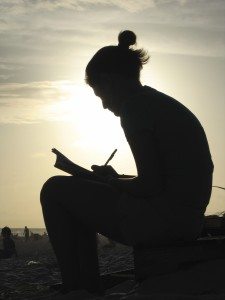 The other day, I came across my notebook from the first time I was at the Abbey of Gethsemani in 2003 when I met Brother Rene.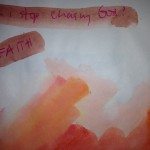 In this quick watercolor, I wrote: Can I stop chasing God? Faith. I realize that something in me was already sensing that my orientation to myself, my life, and to God needed to shift. I was desiring to find a way to become the receiver of my life; not the controller.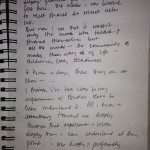 In this notebook, I began writing my experiences and discovering what was in my heart.  It was the beginning of what eventually became my book.
As I write in my book: Seeking Surrender: How a Trappist Monk Taught me to Trust and Embrace Life, it is so important to express ourselves during our surrender journey. Here is an excerpt from the chapter: Learning to Walk the Path of Surrender
My infertility, my sister's cancer, my father's illness, my husband's business loss, and even my sleeplessness felt like an intense, never-ending confrontation with the human condition. A pressure had built up in me from the years of exerting so much effort to affect what ultimately I could not control.

I needed to release all I had stored up in myself. I cried. I wrote. I prayed. I painted. I swam. I walked for hours. I cleaned out my closets. And I cared for others. All of these turned out to be part of my healing process.

Writing became the primary way for me to express myself—to rant, to rave, to mourn, to question, to cry out to God. I scribbled and scrawled my way through tunnels of feelings, questions, doubts, and rage. The writing became a form of discovering the surrender that was seeking to be heard. As I wrote in notebooks, journals, and in my letters to Brother René, I began to hear the call to surrender, to trust God, and to let go.

There are many forms of expression available to us. We can sing, dance, work in our garden, take long walks, paint the rooms in our house, keep a journal, or even start a creative project. The method is not as important as the critical need to find a way to express and release all the energy moving around inside us, to listen to what is stirring, and not to push our thoughts and feelings away.

This is a time to release what has built up inside of us and not hold on to it. By engaging in a form of creative expression, we are participating in our own healing process. The more we can let go of what has accumulated inside of us, the more we clear the way for surrender.

Remember what is said in the Gospel of Thomas: "If you bring forth what is within you, what you bring forth will save you. If you do not bring forth what is within you, what you do not bring forth will destroy you."

—- used by permission from Ave Maria Press, 2015. 
As you read the book and begin  your surrender journey, I encourage you to find a way to express all that is stirring in you. We need to free ourselves, so we can discover where God wants to lead us.